We finally had those chickpeas for dinner ...
All you need is:
1-2 cans of chickpeas (or their equivalent in prepared dry chickpeas)
1-2 tsp. minced garlic
Extra-virgin olive oil
Kosher salt (any salt will do-- we just like kosher salt)
Preheat oven to 350 degrees.
Drain and rinse the chickpeas. (At this point, you can put them in a bowl. I just do the next step in the colander so that I'm not dirtying another dish.)
Drizzle with olive oil and toss with garlic. Toss until the garlic is distributed and the chickpeas are coated with oil.
Spread in a single layer on a baking sheet.
Place in the oven for 10 minutes.
Prepared, but not cooked ...
At this point, you could do the appropriate thing and stir them, but I just give the pan a good shake or two.
Cook for 10 more minutes.
After 20 minutes ...
If you are going for cruncy chickpeas, pull them out and give them another shake before cooking for an additional 10 minutes. Although I sometimes cook them longer like this, I usually stop at 20 minutes. That's the texture that we prefer at our house.
Remove from oven and sprinkle with kosher salt and serve. Simple and filling, this is one of our favorite fallback meals.
After 30 minutes ...
Linking with: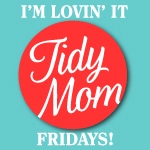 Wow Me Wednesday
What's on Your Plate?